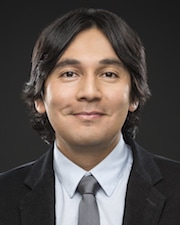 Dr. Manuel Canché
Voting Member
---
Manuel González Canché joined the Higher Education division as an associate professor in 2017. At Penn GSE he also serves as affiliated faculty with the Human Development and Quantitative Methods division and the International Educational Development Program. In addition, he is a senior scholar in the Alliance for Higher Education and Democracy and a senior research associate at the Penn Center for Minority Serving Institutions.
As a low-income and first-generation college student, González Canché has a special interest in understanding structural factors that influence minority and at-risk students' likelihood of educational and occupational success. He aims to identify plans of action capable of closing social and economic gaps resulting from students' reduced access to financial, academic, and social resources. His findings have offered a more nuanced understanding of the effect of location, influence, and competition, and have challenged traditional ideas about access, persistence, and success in higher education.
González Canché is the 2016 recipient of the Association for the Study of Higher Education's Promising Scholar/Early Career Award. He has secured funding for research from the Spencer Foundation, the American Education Research Association/National Science Foundation, the Association for Institutional Research, and the Institute of Education Sciences.