With the attendance of 200 people the Noche de Arte de CCATE was a community gathering to celebrate the six anniversary of the Center and the achievements of the community during 2017. The Noche de Arte, also it's CCATE's fundraising annual event reaching the goal of minimum $7,000.00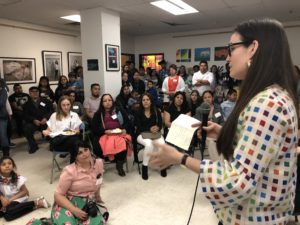 As every year CCATE invites a keynote speaker that can inspire the community, this year Marian Vidaurri who is Section Chief Political Analysis for the Office of the General Secretary of the Organization of American States delivered a beautiful message in which she compared CCATE with the roots of a tree remembering the words of Leon Tolstoi. Vidaurri emphasized that social transformation takes the effort of community organizing and CCATE is a example of it, that in a short time has made a strong impact in the community of Norristown, Montgomery County and Philadelphia area.
Art made by each class of CCATE including young students, adolescents and adults were on sale. CCATE's friends, photographers Karuna Krishna and Donald Kautz donated pieces of their collection to sale or to put on auction.
As has been a tradition, CCATE's Noche de Arte is possible by the commitment and participation of parents who work under committees, the Food committee leaded by  Obed Nogueda a long time meber of CCATE made as every year a delicious menu. The team of Obed is Laura Sánchez, Mariana Castro, Roberto Rodríguez, Horacio de la Luz, Caitlin Brady, Tessi Ruiz and Norma Romero, work very hard for making enchiladas, pasta, cakes, fruit salad and appetizers.
The room committee as every year had the participation of children, youth and adults who repainted the walls, set the galleries, curated the space and set the program. Diana Lugo in collaboration with Lupita Castillo, Lourdes Flores, Gary Gomez, Salvador Gonzalez, Holly Link, Irma Martinez, Jenny Bonilla, Susana Gilabert and the adult classes work accommodating the space, cleaning, and preparing for the event.
During the celebration the cello class of Ashley Chen Kim performed three pieces making its first performance since the formation of the class in September of 2017, the public was amazed in how much the class has advanced in short time. The guitar class of Juan Carlos Orozco made a memorable performance with 13 students from ages 7 to 15 year old.
It was a night of celebration where officials of the town, friends and partners from the University of Pennsylvania, Villanova University, Lower Merion Baptist Church, Nuix, Pfizer, and Merck were present supporting CCATE.
It was a community celebration and a celebration of the community! Viva la comunidad!